MHProNews Q&A with Danny Ghorbani
The following is a reprint of a popular new periodic series of questions and answers (Q&A) published by MHProNews. Authorization to republish has been given by L.A. "Tony" Kovach, their cofounder and publisher.
The series aims to set key industry issues in its proper historic and factual context. MHProNews asked Danny Ghorbani to participate due to his unique and award winning 50-year history in manufactured housing.
"The manufactured housing industry did not become the legitimate
and affordable housing of today from the trailers of yesteryear
THROUGH REVOLUTION, BUT RATHER THROUGH EVOLUTION,
thus establishing a long and rich history of success, which many
in the industry today tend to distort and/or forget altogether
in order to fit what is to their own benefit. We must not allow
this to occur."
– Danny Ghorbani
DISCRIMINATORY AND EXCLUSIONARY ZONING LAWS
You are right on target with your question, which puts the spotlight squarely on an issue that should be right at the top of the industry's "must-do" list of reform priorities, but, unfortunately, is not. The reality is that if there is one factor that continues to block the progress and advancement of the manufactured housing industry from achieving its full potential as the only source of affordable, non-subsidized and quality homeownership for millions of moderate and lower income Americans, it is — by far — the imposition of discriminatory and exclusionary zoning laws on the industry's homes and the purchasers of those homes by state and local governments. It is very simple to grasp this from a potential homebuyer's point of view, because if he/she cannot place a manufactured home on a piece of land, the potential consumer will simply not buy it. Thus, the industry's huge zoning predicament.
This, added to the continuing lack of readily available consumer finance at affordable and truly competitive interest rates, have devastated the growth of the industry and placed potential homebuyers in an untenable situation, with no end in sight. These two glaring failures have created a bottleneck in the marketplace between manufacturers, who can easily expand their production and meet any and all consumer demands for today's quality manufactured homes, and potential home buyers who are ready and willing to purchase these homes, but can't finance and place them. In short, our industry's very unique network of distribution (i.e., retailers and consumer finance) and placement (i.e., communities) that has served consumers very well, and has given the industry a distinct advantage over other types of housing (i.e., site-built) in the affordable housing marketplace, are slowly being "squeezed" and are gradually disappearing.
So, while industry manufacturers can and do aggressively fight and win regulatory battles at the national level regarding the production of their homes (thanks to the formation of the Manufactured Housing Association for Regulatory Reform — MHARR — in 1985), the industry is impotent, hapless and unable to fight and win its battles regarding post-production issues – i.e., issues arising after the home leaves the factory, because there is no collective, independent national entity out there that is willing and able to fight specifically for the Post Production sector.
The lack of such a collective, independent national representation for the industry's post production sector (comprised of retailers, communities, developers and finance companies) — particularly in this age of specialized representation — should be unacceptable to these constituencies.  And this is particularly the case for an industry which is comprehensively federally-regulated under a law that empowers and establishes a unique partnership between the federal and state governments, and which is based on the three main principles of federal preemption, a uniform code and uniform enforcement that have served to establish our industry as the nation's main source of affordable housing.
Is there any wonder then that the industry's zoning situation and consumer financing are such a shambles? The industry's production has been stuck under 100,000 homes annually since 2006 not because manufacturers cannot produce the modern, high-quality, affordable homes that consumers want (and need), but because zoning and consumer financing for such mainstream manufactured homes are in disarray and chaos.
Who is fighting for the industry's post-production constituency, or even speaking for them? If there is such a voice, as the Manufactured Housing Institute (MHI) repeatedly claims that it is and collects dues for it, then it must admit and accept responsibility that it has failed – and, frankly, failed miserably — to fulfill its duties and obligations, as evidenced by the prevailing terrible results.
How did the industry get to this point? Unfocused, unprepared, bumbling and without any vision or plan of action to fight – matched with a determination to win?
To overcome the industry's zoning and consumer financing woes, this so-called post production representation needs to do more than hold meetings, issue talking points, engage in "photo ops," or publish newsletters full of braggadocio and boasts, but bereft of any tangible results.  There also needs to be fewer legislative and other alleged "partnerships" with the industry's foes and competitors (i.e., site-built housing) who would do anything and everything in their power to taint, diminish and cut-down-to-size the manufactured housing's exceptionalism as the Nation's main source of affordable housing. These sorts of shallow activities may sound and look good in promotional materials sent to its membership, but they've done absolutely nothing tangible to correct the industry's persistent twin problems of zoning and consumer financing — again, as demonstrated by the prevailing terrible results.
The good news is that — as with the consumer finance that we discussed previously — there are those in the industry who have taken action and continue to press hard and fight aggressively against these discriminatory and exclusionary zoning laws. For example, there are several industry state associations that have individually done a great job on these zoning matters. And I know for a fact that MHARR, (even as a "manufacturers only"  association and with absolutely no post-production funding support) has — and continues — to hammer this issue on a national stage, utilizing the "enhanced preemption" language of the 2000 reform law, which MHARR (in partnership with the late Will Ehrle, then president and general counsel of the Texas Manufactured Housing Association) was largely instrumental in writing.
The relevant details of all these issues can and will be addressed in future Q&A sessions, but, for the time being, let this answer to your initial question serve as a wake-up call — that unless something very drastic occurs to change and reverse the dynamics of the industry's rapidly-accumulating losses in zoning and consumer financing, the industry's retailers, communities, developers and financing companies, can rest assured that their views, interests and advancement are being poorly served.
##
MHProNews QUESTION 3
DUTY to Serve
Unfortunately, this simple concept has been totally absent as the centerpiece of conversation, debate, decisions and policies by the industry's post-production sector, ever since that group abandoned and dismantled its collective, independent, national association, the National Manufactured Housing Federation (NMHF) in early 1990s, with ensuing disastrous results.
Needless to say, among the most damaging of all the disastrous results for the industry and consumers of affordable housing is the scarcity of affordable consumer financing for our homes. I am convinced that had there been such a national, independent, post-production association in place when the Duty to Serve (DTS) law was enacted, Fannie Mae and Freddie Mac would not have dared, let alone succeeded in avoiding the securitization of mainstream manufactured home loans in market-significant numbers.
But that is hindsight. Going forward now, the question is — given the absence of such a post-production representation to speak out for retailers, communities and finance companies, how can the huge mess that Fannie and Freddie have created with respect to the DTS law be corrected? This will build upon the first two Q&As we did with your publication on March 9 and April 23, 2020. Because the goal should be to put DTS back on the right track for the benefit of low, lower and moderate-income American families. That benefits consumers and independent businesses alike, and that was the Congressional mandate that DTS was meant to solve.
My answer, is that if we carefully and comprehensively apply my above-stated concept to this question, we would realize that as bad as the current situation is, it can be corrected, if (and that is a big "if") the entire industry and consumers are willing to fight for it, because they hold all the cards…they have everything going for them.
My optimism is based on two factors. First, the big "if" that I referred to above, is a "must," because participation by the entire industry is necessary in order to fully comply with the elements for success described in the above concept. This must include the industry's conglomerates, the couple or so finance companies and their association, the Manufactured Housing Institute (MHI), all of which are currently going along to get along with Fannie and Freddie, giving those two entities a free hand to continue the shenanigans which richly benefit them.
Second, I say this situation can be corrected because based on everything that we know to date (nearly all of which we have addressed with the first two Q&As in your March 9 and April 23, 2020, articles), it is my opinion that Fannie and Freddie, in their haste to avoid the securitization of mainstream manufactured home loans in market-significant numbers, have become careless, have outsmarted themselves, have made too many mistakes, have made many in-your-face, wrong decisions and painted themselves in a corner…antics that the industry and consumers can and must expose, uncover and correct. What they have done is a bureaucratic nightmare that only people who deal with the manufactured housing industry would dare to undertake, because they can always count on the go-along-to-get-along crowd in the industry to undermine anything that might help the small industry businesses and consumers of affordable housing.
And this brings us to your main question about FHFA Director Mark Calabria, who is the only person than can truly initiate the sorely-needed reform of the mess that Fannie and Freddie have created.
Fortunately, the Manufactured Housing Association for Regulatory Reform (MHARR) which represents the views and interests of the industry's smaller businesses, has done just that. MHARR has, once again, taken the lead in an effort to stop Fannie and Freddie's runaway train wreck with the DTS law, while seeking to put it back on the right track.
In a May 11, 2020 must-read letter to Mark Calabria, MHARR's President & CEO, Mark Weiss, exposes the continuing ruse that Fannie and Freddie are forcing on the industry and consumers of affordable housing under the guise of "implementation" of DTS law. In essence, Weiss challenges Director Calabria to come clean with what is going on and the steps that must be taken in order to clean-up the mess. Furthermore, in that letter, Weiss methodically documents all the relevant facts — accurate and undeniable information, common sense, historic trends and other evidence — to build a solid foundation that blows away Fannie and Freddie's ongoing schemes and excuses, and provides Director Calabria with a good structure, framework and chronological order to act.
In addition, it exposes the green light that Fannie and Freddie have routinely received from the industry's usual suspects, led by Warren Buffet's Berkshire Hathaway subsidiary, Clayton Homes, Inc. and Clayton's own financing affiliates. These business – and ultimately Buffet – stand at the apex of the problems that exist for the industry and consumers with respect to both production and financing. Clayton, on the one hand, dominates industry production. On the other hand, through its financing subsidiaries, it dominates the manufactured housing consumer finance market. With this double-edged market power, it is able to push consumers – with no other or better options due to the subversion of DTS — into higher-rate manufactured housing purchase loans for the homes that they produce. And, in fact, Berkshire Hathaway in one of its recent annual reports, notes that it makes more money from manufactured housing finance than from the production and sale of manufactured homes per se. So why change?
Then there are the FHFA "regulators" who have been their collective thumb on the proverbial scale of justice in favor of Fannie and Freddie's evasions and against the industry's small businesses and consumers of affordable, mainstream manufactured housing.
MHARR's May 11, 2020 letter is thus must-read correspondence for anybody and everybody with an interest in manufactured housing, in order to understand what the Enterprises have been getting away with in hurting the industry and, more importantly, the low, lower and moderate-income Americans who depend on manufactured housing as their main source for affordable homeownership.
More importantly, the correction to the fiasco that Fannie Mae and Freddie Mac have engineered with the DTS law is right there…in black and white and step by step in MHARR's May 11, 2020 letter. The proverbial ball now is in Director Calabria's court, as he not only has a duty, but an obligation to take meaningful corrective action. And while all this began prior to Director Calabria's arrival at FHFA, its continuation and, indeed, worsening, is now occurring on his watch.
Director Calabria must initiate an internal investigation to get to the bottom of this mess, and specifically, how and why FHFA regulators have allowed Fannie and Freddie to twist a legitimate public law into a sweetheart deal with a couple of the industry's conglomerates, producing expensive non-affordable homes, while American families that the DTS law is meant to help, are driven (more like forced) into higher rate, predatory-like loans which are dominated by a couple of finance companies — all under the collective nose of FHFA regulators. And then, he must take concrete, specific action. That means implementing, without further baseless delay, DTS – in a market significant manner – for all mainstream HUD Code manufactured housing. If, for some reason, he feels that the DTS law needs to be expanded or "tweaked," he has an obligation to go to Congress to seek any such corrections in order to fully effectuate Congress' clear objectives in enacting DTS in the first place. Otherwise, he has one single, unequivocal and undeniable duty – and that is to fully implement and enforce DTS.
The current situation is outrageous and totally unacceptable. Director Calabria must put an end to this travesty. Indeed, Director Calabria, in full compliance with President Trump's regulatory, housing and finance policies, must take meaningful and effective remedial action now.##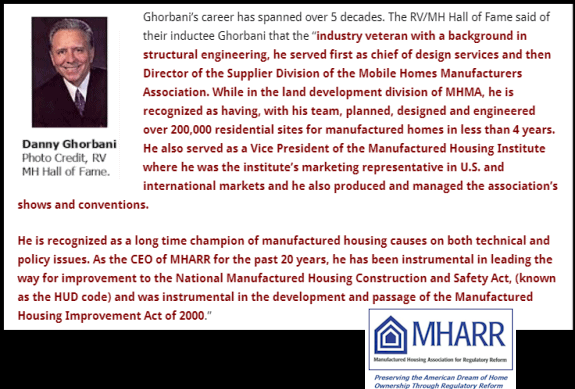 MHProNews Question 2:
DUTY to Serve
Having watched, studied and analyzed the Enterprises' actions for nearly four decades, and having been involved, engaged-in and instrumental in the drafting and passage of the DTS law, it is my personal opinion that Fannie and Freddie, whether by chance or by design, or a combination of both, have initiated, perfected and ultimately exploited a three-pronged approach to their interpretation, implementation and handling of the DTS law. And when these three approaches overlap, as they have since 2008, they create a platform-of-operation and a comfort zone which allows them to defy the law and its mandate to satisfy their own view of manufactured housing (see, Q & A of March 9, 2020) while, at the same time, richly benefiting their favored clients at the expense of the industry's small businesses and the moderate and lower income American consumers that they are supposed to serve.
And what are the three prongs of this approach? They are:
1-The Government Sponsored Enterprises (GSEs) of Fannie Mae and Freddie Mac continuing home-financing (particularly chattel financing) discrimination against a class of American consumers who depend on today's federally regulated manufactured housing (MH) as their principal and, in some cases, only source of homeownership;
2-Fannie's and Freddie's utter disregard for the well-established parity between the construction/manufacturing of today's MH and all other types of single- family dwellings; and
3-The GSEs unholy alliance with — and green lights given to them by — unexpected quarters, which provide them with just enough cover to continue the unacceptable status quo.
Now, let's delve a bit more into each of these three factors.
1-   It is a well-known and long-established fact that the large majority of manufactured home (MH) purchasers are young couples, moderate and lower income consumers and elderly Americans. Fannie and Freddie have and continue to routinely question the credit-worthiness of these groups as an excuse for not securitizing MH loans. And their biggest excuse, of course, is that they do not have any relevant data available to justify their risk-taking in securitizing such loans – and particularly chattel loans. But this is nothing more than a bogus excuse, because they have had twelve years with the best available tools and an army of home-financing experts at their disposal to actually develop such data themselves. For them, this should be an easy task and something that would not take twelve years, with no end in sight.  For example, in one of its countless number of comments on the implementation of DTS, the Manufactured Housing Association for Regulatory Reform (MHARR) provided Fannie, Freddie and FHFA with a suggested program that would start with a small but market-significant number of chattel loans which would vigorously be reviewed and evaluated periodically. If the results were satisfactory, they would then gradually increase the number of loans and continue with their close monitoring. Now, if MHARR could formulate a workable approach like this, why can't Fannie Mae and Freddie Mac? Instead, Fannie and Freddie have wasted twelve years and all they have to show for it are meaningless, miniscule, dead-end "pilot programs" that have discouraged and driven away industry participation, and forced the consumers into very high-rate private chattel loans … something that DTS was supposed to change for the better, but has instead become worse. And if these private companies can earn profits on such high-rate loans, why can't Fannie and Freddie, at the very least, start one lower-rate loan program, while still earning a profit? For the Enterprises, whose careless and unimaginative programs (remember sub-prime loan programs?) cost American taxpayers trillions of dollars and brought the world economy to near-collapse to worry about high risks and potential defaults on a miniscule number of manufactured housing loans is hypocrisy at best and pure discrimination against some 80% of manufactured home consumers at worst. Given Fannie and Freddie's checkered history with the manufactured housing industry, one would have to conclude that it is the latter.
2- The DTS law and its mandate are clear, unambiguous and unwavering. Simply stated, with the DTS law Congress told Fannie and Freddie that they have miserably failed to serve the federally-regulated manufactured housing industry and consumers of affordable housing since they were created, and with the DTS mandate, they now have to start serving both — i.e., not site-built, or modular, or sectional, or any other type of single-family dwelling built in compliance with other types of building codes, but today's quality, well-built and affordable manufactured homes constructed in full compliance with the HUD Code and regulated by the federal government. They must provide securitization programs that would enable finance companies to offer lower-rate loans for manufactured housing AS IS WHEN IT LEAVES THE FACTORY AND IS PURCHASED BY A HOME BUYER…as simple as that. But that is not good enough for Fannie and Freddie as they have decided to re-invent the wheel by demanding that the code and materials be substantially upgraded to the point that the bottom-line price of the home would make it prohibitively costly to the average consumer who would otherwise depend on a manufactured home for his or her homeownership. A very clever way of avoiding the securitization of mainstream manufactured housing loans, right? And to make matters worse, as if they are ashamed of the name "manufactured home," or in an effort to look down at the product, or in an attempt to confuse homebuyers (or, possibly, a combination of all the above) they, with the help from some within the industry, have invented meaningless and unrelated names such as "High-End Initiative," "MH Select," "New Type" of home, "New Generation" of home, "New Class" of home, "Advantage Home," "Choice Home" and the worst name of all, "Cross-ModTM home!!" (As an aside, the CrossModTM name appears to have been invented by a wannabe individual totally devoid of any and all knowledge, and without the slightest understanding of the rich heritage and history of this great industry…not to mention the difficult and cumbersome evolution that it has endured to get where it is today.) So, Fannie and Freddie must be educated to understand that when a manufactured home leaves the factory with that federal-seal-of-approval affixed to it, it is on par and in full parity with — and, in many cases superior to — any and all other single-family dwellings built to any other building code in the United States of America.
3- One of the main reasons that Fannie and Freddie have been able to yank-around the manufactured housing industry and consumers with a perceived legitimacy for their dodging and evading all these years, is due to their alliance with — and a green light given to them by — a segment of the industry and their regulators (i.e., the Manufactured Housing Institute (MHI) and FHFA).While MHI was a loyal and integral partner with MHARR and the rest of the industry and consumer coalition during the drafting and passage of the DTS law, it went off the reservation (as it did with the landmark Manufactured Housing Improvement Act of 2000 reform law) when it came to the full and proper implementation of the DTS law. I have been around this industry and Washington, DC long enough to know for a fact that Fannie and Freddie would have not been able to do what they have done with this industry and its consumers all these years had it not been for the wink and nod given to Fannie Mae and Freddie Mac by MHI, and their half-hearted support for DTS.
To be sure, and according to the available information, MHI has had its limitations and shortcomings in pulling their punches, often saying one thing publicly, but doing something different privately, going along to get along, as one, or two, or possibly three of their largest conglomerate members are the only companies utilizing Fannie and Freddie's wild-goose-chase securitization programs — or should I say "pilot programs" or whatever is the name of the latest program that they offer these days.
I am not aware of any small businesses in this industry using a Fannie or Freddie program. Furthermore, MHI's membership includes two of the largest finance conglomerates that provide higher-rate chattel loans and have no incentive at all to support the full and proper implementation of DTS that would attract competition from smaller companies which would utilize DTS to support lower-rate chattel loans. (Incidentally, here is another major set-back for the post-production sector of the industry when there is no independent, national collective association to represent their views and interests on critical matters such as this.)
As for the green light that FHFA has given to Fannie and Freddie to continue their evasion of and failure to fully and properly implement the DTS law, there are several words that would perfectly describe FHFA's action or lack thereof prior to the arrival of its current Director, Mark Calabria and his team. Unfortunately, none of those words are pleasant enough to be listed here, thus we'll spare them.  Since Director Calabria's arrival at FHFA, though, and given the fact that I personally have known and worked with this gentleman for nearly three decades with positive results, I use the word "disappointing" to describe FHFA's efforts to regulate and fully and properly implement the DTS law. I say this because Director Calabria is a trusted and serious federal government regulator. He and his team have a large reservoir of credibility with our industry, and with me, personally. They were quite helpful and indeed instrumental in the passage of the landmark 2000 reform law. They respect and admire this industry for the quality homes that it builds and the affordable homeownership opportunities it offers to moderate and lower-income consumers. They, along with other relevant agencies, have an aggressive mandate and the full protection of President Trump and Congress to increase and expand the supply of affordable housing for American consumers — a huge undertaking that rightfully must start with affordable HUD Code manufactured housing. Why is it, then, that after nearly two years in charge of FHFA he has not been able to reign-in the renegade Fannie Mae and Freddie Mac, and fully and properly implement the DTS law for the benefit of consumers and the industry's small businesses? Thus, my disappointment at the continuing green light that FHFA is seemingly providing to these Enterprises along with the perceived legitimacy that allows them to continue with their evasion. Although I don't hold my breath, it is obvious that drastic decisions must be made by FHFA to end the unacceptable status quo and put the vital DTS mandate back on track.
The proverbial ball is clearly in FHFA's court, to use its full power and authority to put an end to the nonsense and evasion that Fannie and Freddie have gotten away with for 12-plus years (and counting) regarding DTS.
##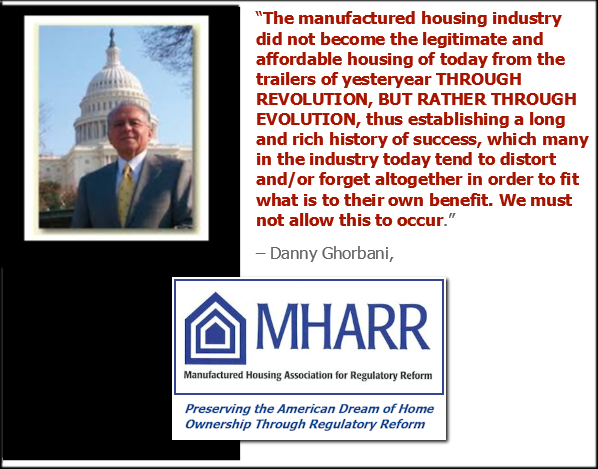 That noted, the following was a news release provided to MHProNews at the time of Danny Ghorbani's retirement from MHARR. 
WASHINGTON, D.C., NOVEMBER 20, 2014 — Danny D. Ghorbani, President and Chief Executive Officer of the Manufactured Housing Association for Regulatory Reform (MHARR) will be retiring effective December 31, 2014.
A 46-year veteran of the manufactured housing industry who has served since 1985 as the first and only President & CEO of MHARR, Ghorbani was asked by the MHARR Board of Directors — and has agreed — to continue as the Association's Senior Advisor on national policies. Further, to ensure a totally seamless transition and uninterrupted continuation of the Association's national policies and activities, the Board has selected the Association's current Senior Vice President, Mark Weiss, to be MHARR's new President and CEO effective January 1, 2015.
Making this announcement in Washington D.C., MHARR Chairman John Bostick stated that "In his 46 years of service to and representation of the manufactured housing industry, Danny Ghorbani has contributed tremendously to the advancement and evolution of all aspects of our  industry. We wish him and his family a well-deserved and enjoyable retirement, knowing that he will continue assisting MHARR and the industry going forward."
A Structural and Civil Engineering graduate from the University of Illinois, Ghorbani was first recruited as a member of the professional team assembled by the City of Chicago's legendry Mayor, Richard J. Daley, to re-design the city's aging trunnion bascule bridges. A year later in 1968, Ghorbani was recruited by the Mobile Home Manufacturers Association (since re-named the Manufactured Housing Institute) to work with a team of planners, landscape architects and engineers as the Project Engineer and Chief of Design Services for a new program to plan, design and engineer modern manufactured home residential developments and communities throughout the United States in order to meet increasing consumer demand and the rapid growth of the industry.
Four years, and some 200,000+ engineered manufactured housing sites later,  on his way to Georgia Tech University to take a teaching position and complete his post-graduate studies,  Ghorbani was asked by MHMA leaders to remain with the Association, take charge of its transition from Chicago, Illinois to Washington, D.C., and be part of the industry's entry into  the federal arena.  Ghorbani accepted this challenge and stayed with the Association, where he began twelve years of wide-ranging activities and responsibilities on behalf of the manufactured housing industry, including, among other things, managing the industry's 600+ company-strong suppliers group, the industry's two national shows and expositions (with the then-national manufactured housing show in Louisville, Kentucky being the 5th largest indoor trade show and exposition in the United States for four consecutive years), and serving as the industry's representative and liaison to various international housing forums and negotiations.
Then, in 1985, when a group of industry visionaries and pioneers concluded that the fledging federal manufactured housing program was rapidly veering off-course, they selected Ghorbani as the President and CEO of their newly formed association (MHARR) to chart a bold, new and different direction for the industry in Washington, D.C.  Fully aware that the initial federal law — patterned after the automobile industry — and its corresponding regulatory excesses coupled with discrimination against the industry and its consumers had drastically hampered industry  growth, MHARR began devising and aggressively advancing national policies that gradually gained ground and credibility for the industry with officials, lawmakers and consumers in the Nation's Capital. This effort culminated with the passage of the landmark Manufactured Housing Improvement Act of 2000, signed into law by President Clinton on December 27, 2000, recognizing manufactured homes, for the first time, as affordable, legitimate "housing."
A staunch advocate for fair treatment of manufactured housing and its consumers,  with  a watchful  eye to protect the delicate  balance between  consumer protection and  affordability, Ghorbani has, for nearly five decades, been a leader, fighting for fair and reasonable industry regulation and elimination of all discrimination against the industry and its consumers.
In Washington, D.C., Ghorbani said: "It has been a privilege and honor to work for, represent and advance an industry that I love and a product that I truly believe in." He continued, "but the real reward for me personally has been and will continue to be the literally thousands of friends and supporters that I have been fortunate enough to know and work closely with in advancing this great industry."
###
###
MHProNews Question 1:
DUTY to Serve
MHProNews. It's now been roughly 12 years since the "Duty to Serve" (DTS) mandate was passed by Congress as part of the Housing and Economic Recovery Act (HERA) of 2008. HERA's DTS mandate required that Fannie Mae and Freddie Mac make financing affordable housing preservation, rural, and for HUD Code manufactured homes. Can you provide our readers some insight into the history of this matter and specifically how it relates to the ongoing failure of the GSEs to fully implement that law in accordance with its terms. In framing your reply, let's set aside community financing and FHFA's role in this for now, and focus on the what some call posturing and confusion which we've seen from the GSEs instead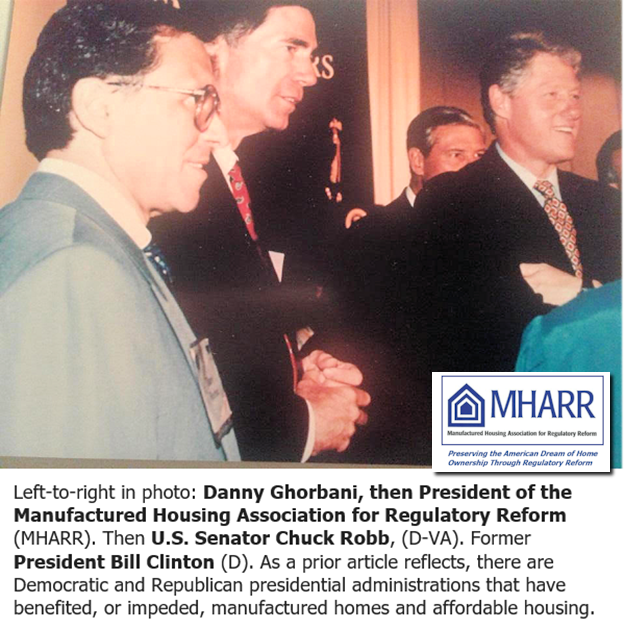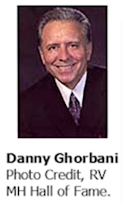 The following is as cited by MHLivingNews.com and the RV/MH Hall of Fame.
What the RV/MH Hall of Fame Says About Danny Ghorbani
Danny D. Ghorbani then President and CEO of the Manufactured Housing Association for Regulatory Reform (MHARR) in Washington DC was inducted into the RV/MH (Mobile and Manufactured Home) Hall of Fame in 2004.
Ghorbani's career has spanned over 5 decades. Per the RV/MH Hall of Fame, Danny Ghorbani is an "industry veteran with a background in structural engineering, he served first as chief of design services and then Director of the Supplier Division of the Mobile Homes Manufacturers Association. While in the land development division of MHMA, he is recognized as having, with his team, planned, designed and engineered over 200,000 residential sites for manufactured homes in less than 4 years. He also served as a Vice President of the Manufactured Housing Institute where he was the institute's marketing representative in U.S. and international markets and he also produced and managed the association's shows and conventions.
He is recognized as a long time champion of manufactured housing causes on technical, regulatory, legislative and policy matters. As the CEO of MHARR for the past 20 years, he has been instrumental in leading the way for improvement to the National Manufactured Housing Construction and Safety Act, (known as the HUD code) and was instrumental in the development and passage of the Manufactured Housing Improvement Act of 2000."
##